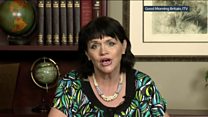 Video
Royal wedding: Meghan's half-sister hopes father will attend
Meghan Markle's estranged half-sister has said she hopes their father Thomas will attend his daughter's wedding to Prince Harry on Saturday, if he is well enough to do so.
Mr Markle told celebrity news site TMZ he would no longer be walking her down the aisle, following reports he staged photographs.
"I wanted to see him go (to the wedding), I didn't want him deprived of that," Samantha Markle told Good Morning Britain, adding that her father had suffered a heart attack due to stress caused by the media.
"But clearly the priority should be whether or not it's safe for him to do that."
Kensington Palace has said it is "a deeply personal moment for Ms Markle".