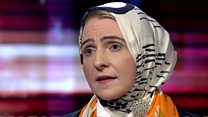 Video
Mother of deceased IS fighter: My son would say sorry
Nicola Benyahia's son Rasheed became radicalised in Birmingham, UK and travelled to Syria to join the so-called Islamic State (IS) in 2015.
Six months later, he died fighting with IS, aged 19.
During his time in Syria she kept in regular contact by phone and texts. She told Hardtalk's Stephen Sackur that shortly before he was killed, she noticed a change in him.
"He was clingier and that was because he had been sent fighting for about seven weeks, and I think he had seen things that he wasn't prepared for," she said.
It brought her hope that she could change his mind, but he died a few weeks later.
She said: "If he could come back today, he would probably have realised and say 'I'm sorry mama, I made a mistake'."
Nicola Benyahia has set up Families for Life, an anti-radicalisation organisation.
READ MORE: An extremist in the family
Watch the full interview on BBC World News and the BBC News Channel on Tuesday 25 July and after on BBCiPlayer (UK only)