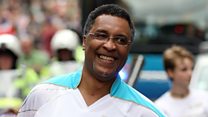 Video
Spencer Oliver on boxer Michael Watson, after suspected car-jack
Former boxing champion Spencer Oliver has described a suspected car-jacking attack on his friend and fellow former boxer Michael Watson.
Oliver told 5 live: "Michael has some burns when he was dragged down the road in the car. It was a crazy incident and thankfully no one was seriously hurt."
A police spokesman confirmed: "Two men, aged in their 50s, informed officers that they had been sprayed in the face with a suspected noxious substance by two suspects who attempted to steal the car.
"The male suspects fled the scene in a different vehicle."
This clip is originally from 5 live Breakfast on Sunday 19 February 2017.