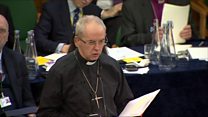 Video
Synod debate: Justin Welby calls for "radical new inclusion"
The Archbishop of Canterbury has called for a "radical new Christian inclusion", as members of the Church of England's ruling body voted not to "take note" of a controversial report on homosexuality and same-sex marriage.
The report by the House of Bishops called for a "culture of welcome and support" for gay Christians.
But it maintained that marriage in church should only be between a man and a woman, and services should not be held to bless same-sex relationships.
The Archbishop of Canterbury Justin Welby, who supported the report, concluded the debate and said: "There are no problems here, there are simply people."
The House of Bishops voted overwhelmingly in favour, but the motion was defeated by the House of Clergy.