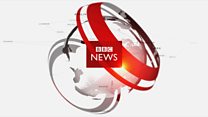 Video
Towering teen Brandon Marshall closes in on record
A 15-year-old boy is closing in on being the tallest teenager in the world. Brandon Marshall, who is 6ft 11.5ins (2.12m) tall, hopes to become a professional basketball player.
But he says his height comes with issues, like having to sleep diagonally across a kingsize bed.
His mother Lynne Quelch said buying clothes for her son as "horrific".
Brandon, from Bury St Edmunds, in Suffolk, is not expected to stop growing just yet and could equal or overtake the current Guinness World Record holder Kevin Bradford, 18, from the US, who stands at 7ft 1ins.
The tallest man in the world is Sultan Kosen, 34, of Turkey, who is 8ft 3ins (2.51m).