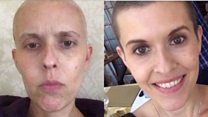 Video
'Why I've raised £135,000 for my cancer treatment'
A mum of three has raised £135,000 to pay for cancer treatment unavailable to her on the NHS.
Liz Sheppard from Mansfield was diagnosed with small cell stomach cancer - a rare form of the disease - in November 2015. Speaking to Emma Barnett on BBC 5 live, Liz said she had spent around £60,000 of the money already on immunotherapy.
It comes as figures released to BBC 5 live Daily show a dramatic eight-fold increase in the amount of money crowdfunded on the JustGiving website in 2016 compared with 2015.
NHS England said that "more people than ever before are surviving cancer thanks to improved NHS cancer care.... and together with NICE we have also launched a new-look cancer drugs fund meaning patients will be able to access promising new and innovative treatments much quicker."