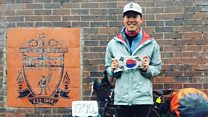 Video
Jungyu Lee cycled from South Korea to watch Liverpool
A young Liverpool fan cycled from South Korea to Liverpool so he could watch his team play at Anfield.
It took Jungyu Lee 235 days and over 10,000 miles by bike to reach the stadium.
However, he was unable to get a ticket for the game so watched it in a local pub.
But, after hearing about Jungyu's journey, Liverpool have now got him a ticket to watch Liverpool host Tottenham on 11th February, along with a stadium tour.
Jungyu told 5 live's Anna Foster he was so happy to make it and not have to cycle anymore.
This clip is originally from 5 live Drive on 1 February 2017.
Go to next video: Crash victim's dad 'glad' to meet driver