Media player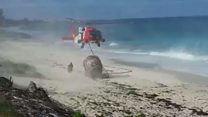 Media playback is unsupported on your device
Video
US Coast Guard removes Trident missile in the Bahamas
On the 7 November 2016 a US Coast Guard helicopter removed the nose cap of a Trident II D5 missile that had washed ashore Man-O-War island in the Bahamas.
As part of the firing process the nose cap automatically ejects from the main body of the missile.
The nose cap had come from a recent US Navy missile test.
Copyright: Real Estate In Abaco, Agent Mailin Sands