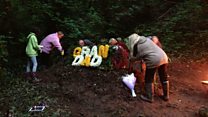 Video
Worcester man who buried his late father in his back garden
Grieving relatives need more information about funeral options, according to a charity. The Natural Death Centre has said professionals, including nurses and police officers, often incorrectly tell families that they must make arrangements through funeral directors - when in fact they can arrange services themselves and even bury their loved ones in their own back gardens.
Nick Bryan in Worcester buried his late father Tony in his back garden in 2013. He said: "Dad was very much to the point of, cardboard box, dig a hole, shove me in, thank you very much, done. The family are supportive because they were his wishes."
"I presume it would affect the selling price to a certain degree, but I have no intention of leaving here," Nick added.
This clip was originally broadcast on 5 live Breakfast on Friday 13 January 2017.
Go to next video: Putting new graves over old 'indecent'