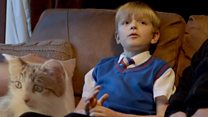 Video
'My mum's partner tried to kill us'
Zach was four years old when his mother's new partner, David Potts, broke into the family home and set it on fire.
Potts, Zach's mother and his 15-year-old half-brother Shaun all died in the blast. Zach was left with severe burns.
He tells the Victoria Derbyshire programme he still remembers the moment he found out his mother had died.
It comes as criminologist Dr Jane Monckton-Smith – who is conducting a study into domestic homicide in the UK – says she believes such family killings are on the increase.
Watch more: You can see the full film on domestic homicide here.
The BBC's Victoria Derbyshire programme is broadcast on weekdays between 09:00 and 11:00 on BBC Two and the BBC News channel.
Go to next video: 'Help me stop hitting my girlfriend'