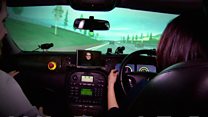 Video
Drivers react to proposal for pre-test motorway lessons
Learner drivers will be allowed on to motorways for the first time, if new government plans are approved.
The lessons will not be mandatory and driving instructors will decide when their students are ready.
Transport minister Andrew Jones says the move would help make roads in Britain safer.
The government said the change would allow learner drivers to "get a broader driving experience", practise at higher speeds and put their theoretical knowledge into practice.
The Department for Transport is also looking at trialling a "target number" of hours of lessons to complete before learners take their test.