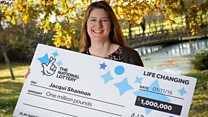 Video
Lottery millionaire: 'I thought I had won £2.40'
A lottery winner nearly missed out on a £1 million prize because she thought she had only won £2.40 on a EuroMillions draw.
Jacqui Shannon, a charity worker for the NSPCC, was a regular player online and only realised she was a millionaire three weeks later when she went to top up her account with credit.
She told BBC Radio 5 live: "I genuinely believed, when I saw the email, that'll be another £2.40 because that's all I ever won."
Jacqui then went to buy another ticket when she was greeted with a message saying "congratulations, you've won a million pounds!"
"I was at work and I was going 'is that six zeros? Is that 1,000? Is it real?!' Once it's happened you don't quite believe it. I carried on my week as though nothing happened."