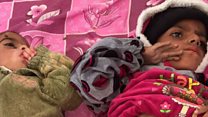 Video
Malnourished children found at refugee camp near Mosul
These two boys arrived at the Hasansham refugee camp near the Iraqi city of Mosul within the last week. Their mother says she pleaded with so-called Islamic State (IS) to give her children food, but she was ignored.
Now at the camp, she says she's still concerned her sons aren't getting the help they need. She said: "I've been here for four days and we have no food, we have not received clothes, as you can see they're wearing girl's dresses."
Iraqi government forces are carrying out an offensive to oust IS from Mosul.
One of the many agencies who look after people inside the camps, UNICEF, says although they have seen cases of malnutrition they don't believe they're widespread at present.
This clip is originally from 5 live Breakfast on Tuesday 29 November 2016