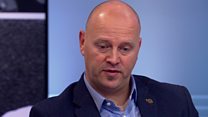 Video
Football sex abuse claims: 'I kept it locked away in the back of my head'
An ex-footballer who claims to have been abused by former Crewe Alexandra coach Barry Bennell has told the Victoria Derbyshrie Programme that he came forward to help other people.
Chris Unsworth said he had decided to waive his anonymity and said he "never told a soul" that he was raped up to 100 times, but felt that he now had to.
Barry Bennell worked as a youth football scout and coach, and was jailed in 1998 for nine years and also served a four-year sentence in the United States.
The Victoria Derbyshire programme is broadcast on weekdays between 09:00 and 11:00 on BBC Two and the BBC News channel
Go to next video: 'My career and relationships have been ruined'