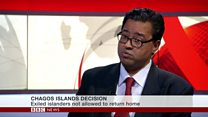 Video
Chagos Island campaigners say they will never give up on the fight to return home
Former residents of the Chagos Islands who were removed to make way for a US airbase in the 1960s and 70s will not be allowed back, the government says.
Instead, it has decided the Chagossians will be offered compensation worth £40m over the next 10 years and the US will be allowed to keep its military base in the islands in the British Indian Ocean Territory.
Families were forced to leave the British overseas territory by the government between 1967 and 1973 when it was leased to the US to build an airbase at Diego Garcia.
Campaigners fighting for the islanders' right to return have spoken of their disappointment at the decision.