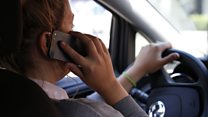 Video
Road safety campaigner: Why we said students had died
A school in Wisconsin summoned its students for an assembly to tell them four of their classmates had died in a road accident.
As they burst into tears, they were then told the four hadn't died after all: It was in fact a simulation as part of a road safety campaign.
The four classmates who'd been chosen to 'die' in this simulation were told ahead of time and were not permitted to use their phones to tip off classmates that they weren't actually dead.
Miranda Ryser, a 17-year-old member of the student council who arranged this drill, told BBC Radio 5 live that fellow students reacted more "negatively" to the simulation than expected.
Brodhead School District Superintendent Leonard Lueck said the exercise was approved by the school's Principal but admitted it went "too far" and it detracted from the intended road safety message.