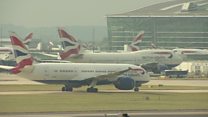 Video
Could the PM allow Heathrow expansion to go ahead?
A third runway at Heathrow was first given the green light by Gordon Brown's government in 2009.
Almost eight years on, could Theresa May be about finally to allow Heathrow expansion to go ahead? Or could she surprise everyone and back Gatwick instead?
A decision is expected imminently but it is not straightforward for the Prime Minister.
Several members of her cabinet are opposed to any plan to expand Heathrow, and reports suggest as many as 60 of her backbenchers are ready to vote against.
Sunday Politics reporter Mark Lobel, has been looking at Mrs May's options.
More: Follow @daily_politics on Twitter and like us on Facebook and watch a recent clip and watch full programmes on iPlayer