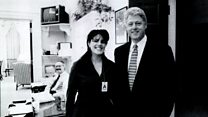 Video
Woman's Hour at 70: Monica Lewinsky talks about her affair with Bill Clinton
In 1995, Monica Lewinsky was an intern at the White House.
In 1998, Linda Tripp, a former co-worker, released secretly recorded phone conversations with Lewinsky, in which the intimate details of an illicit affair between Miss Lewinsky and President Bill Clinton were discussed.
This forced Mr Clinton, in public and under oath, to deny a sexual relationship. This economy with the truth led to his impeachment.
One of the most memorable quotes from the 90s is "I did not have sexual relations with that woman". But what was "that woman's" version?
Monica Lewinsky has been portrayed as a predatory valley girl and a naive intern exploited by her boss. In an exclusive interview, she told Jenni Murray about the affair which nearly brought down a president.
First broadcast 27 December 1999 on Woman's Hour.