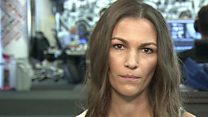 Video
Flexible working: Why are high earners more likely to benefit?
Are flexible working arrangements only for the well off?
New research suggests that if you're a low earner you're far less likely to be given flexible working arrangements which can include things like working from home or working part time.
Parents who earn more than £70,000 a year are nearly 50% more likely to work flexibly than those earning between £10-40,000.
Speaking to the Victoria Derbyshire programme, former deputy head Kellie Simmons said she quit her teaching job because she was refused flexible working, while senior partner Gaenor Bagley said she'd been allowed to work four days a week.