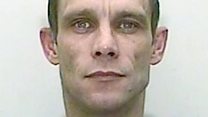 Video
'Six more murders' by Christopher Halliwell
There is "no question" that Christopher Halliwell committed other murders, says the former Wiltshire police detective who first arrested him.
Steve Fulcher resigned from the police after being disciplined for gross misconduct over the way he arrested Halliwell, who last week was jailed for the murder of Becky Godden. He was previously convicted of killing Sian O'Callaghan.
Mr Fulcher tells Today programme presenter Sarah Montague that a "fully contrite" Halliwell cried on his shoulder and believes there are six other murders he may have committed.
Wiltshire Police says it is "conceivable that there are further victims" and are keeping an open mind, although Halliwell is not currently directly linked to other investigations.