Media player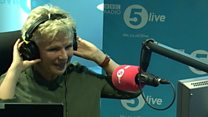 Media playback is unsupported on your device
Video
Julie Walters: Grammar schools 'divisive and dreadful'
Julie Walters has called grammar schools 'divisive and dreadful'.
The 'Educating Rita' and 'Indian Summers' actress who went to Holly Lodge Grammar School in Smethwick, said:
"The scrounge in my day of failing your eleven plus was huge. It was like putting people on the scrap heap, I think it's [reintroducing grammar schools] a terrible thing to do."
She added "people left in comprehensives, they're just going to ruin them. You need a mix of people in schools."
The full interview with Julie Walters will be on 5 live Afternoon Edition on Monday 19 September 2016 .