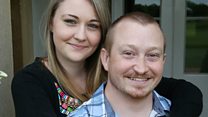 Video
Patient slept in police car due to bed shortage
A health trust has apologised after a woman who was going through a mental health crisis ended up sleeping in a police car while waiting for a suitable hospital bed.
Katie Sempkins from Wiltshire, suffers from emotionally unstable personality disorder.
She is now been admitted to hospital after being sectioned twice last weekend.
Her husband, Tristan Sempkins, told BBC 5 live's Sam Walker, that his wife ended up sleeping in the police car because of the lack of beds.
"I got a blanket and pillow out of my car, she fell asleep. I would like to praise the police officer for making that decision."
A spokesperson for the Avon and Wiltshire Mental Health Partnership NHS Trust has apologised and said they work closely with the police to ensure they know the availability of places of safety.