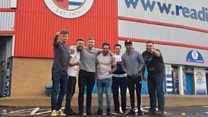 Video
First club to score decides birthday night out
A group of football fans from Derby have arrived back home after a weekend away, the venue for which wasn't decided until just after 3 o'clock on Saturday.
They decided to pick a birthday break through football scores and travel to wherever the first goal was scored.
Reading FC were the first team to score with a John Swift free-kick, which gave the Royals a second-minute lead.
Brad Ahlfors and Daniel Baxter were two of the magnificent seven who hatched the plan. They told 5 live's Adrian Chiles that the spontaneous trip to Reading was a great way to celebrate their friend's birthday.
"It was a good night, I'm not too sure what time we got in. I think we got in at 6 o'clock in the morning. It was very spontaneous, just the way we like it."