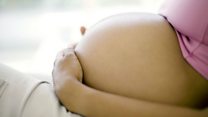 Video
Single father can't make key decisions about his son due to surrogacy laws
A father who won a groundbreaking legal case on Britain's surrogacy laws has told Radio 4's PM programme he hopes he will soon be given the same rights as other parents.
The Human Fertilisation and Embryology Act 2008 allows parents who have had a baby with a surrogate mother to apply for a parental order, giving them full responsibility for the child, but such orders cannot be granted to single people.
Speaking to reporter Jon Manel, he explained that as he is single he cannot legally make key decisions about his own son, for example which school he goes to and applying for a passport.
Go to next video: Surrogacy abroad: 'We knew where we stood'