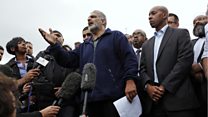 Video
Tariq Jahan: 'Time doesn't heal the wounds'
Five years on from his son's death in the 2011 riots in Birmingham, a man who has been credited with almost single-handedly preventing a race riot says "time doesn't heal the wounds."
Speaking to BBC Radio 5 live, Tariq Jahan said he acted because he didn't want to see "vengeance" in his son's name.
Haroon, 19, was one of three men who died attempting to protect local shops from looters. Mr Jahan said: "Five years on and we're still struggling to cope with the loss of our son."
Eight men were acquitted over the deaths in 2012. Mr Jahan has spent years campaigning for a public inquiry into the circumstances surrounding his son's death.