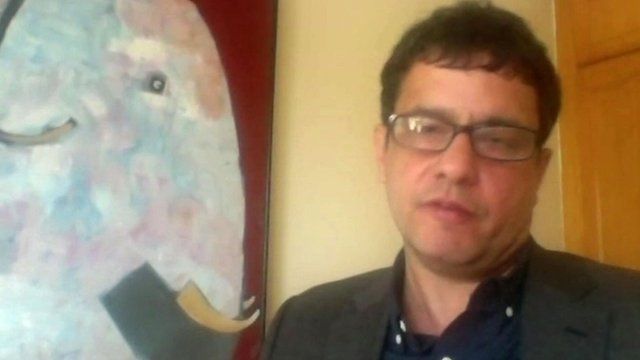 Video
Shaan Taseer on Asad Shah murder
Shaan Taseer is the son of Salman Taseer, who was the governor of Punjab who was assassinated in 2011.
He was an outspoken critic of the country's harsh blasphemy laws. His killer Mumtaz Qadri was was executed in February 2016 but was seen by many in Pakistan as a kind of hero for - in their view - defending Islam. Qadri was hailed as a hero by some Islamists.
On Tuesday a Scottish court sentenced Tanveer Ahmed to 27 years for the murder of Glasgow shopkeeper Asad Shah.
In statements released in court Ahmed made clear he saw himself as defending the "honour" of the prophet Muhammad. Ahmed used to write letters to Qadri while Qadri was awaiting execution.
And Ahmed even called Qadri's brother after committing the murder in Glasgow to boast about it.
For Shaan Taseer, hearing not only that some in Britain were praising his father's killer, but that one of his admirers had murdered someone - emulating his example - was a bitter blow.
Shaan Taseer told BBC Newsnight that to glorify a murderer was glorifying their actions and calling on someone to emulate them.