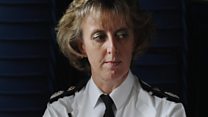 Video
Ex-police chief: 'I was victim of sexism'
A former police chief constable has complained of a culture of sexism among senior officers and says she fears for how female victims of crime will be treated.
Sue Sim headed Northumbria Police until she left last year after what she says was a campaign to get rid of her by alleging misconduct.
An external investigation report, seen by the Daily Mail, concluded she had no case to answer and suggested she was the victim of sexism.
Ms Sim told Today programme presenter Justin Webb about the sexism she had experienced.
In a statement, Northumbria Police said Ms Sim's accusations were "old and tired" and had been exhaustively looked at by three organisations.