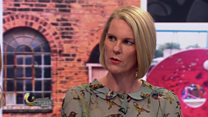 Video
Holiday attack: 'I thought I was going to be murdered'
A British doctor who was raped on an all-female sailing holiday in the Caribbean is taking legal action against the travel company who, she says, didn't do enough to protect her.
Georgina Mortimer, a 45-year-old mother of two, waived her right to anonymity to talk to the Victoria Derbyshire programme and said what happened to her was "avoidable".
The travel company, Girls For Sail, said it is "passionate about the safety and well-being of our customers" and has "never sought to trivialise Ms Mortimer's horrendous experience".
The Royal Yachting Association (RYA) said: "Girls For Sail as a company is not endorsed by the RYA".
Victoria Derbyshire, weekdays from 0900-1100 BST on BBC Two and the BBC News Channel. Follow the programme on Facebook and Twitter, and find all our content online.