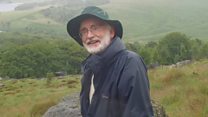 Video
Plane crash survivor returns to scene after 67 years
The last living survivor of a plane crash which killed 24 people when it struck a mist-covered hill on Saddleworth Moor in 1949 has decided to return to the scene for the first time since the tragedy.
Professor Stephen Evans was just five years old when the passenger plane crashed on its way to Manchester from Belfast. He and his parents survived, but his brother Roger, aged two, was killed.
Recent publicity around a mystery man who apparently went to Saddleworth Moor to die – initially potentially linked to the plane crash – reawakened his interest in what happened to him as a child.
Professor Evans was accompanied by 5 live's Elecia Hinds on his journey. He told her about his memories of the crash: "I remember waking up and seeing sky and it looked as though most of the plane was off to the right. I always had from a very early age a very clear memory of her (my mum) sitting with her head down and clearly unconscious but actually kind of mumbling and talking and actually praying."