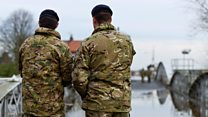 Video
Soldier describes poor accommodation provided by government contractor
The government is "badly letting down service personnel" by providing them with poor accommodation and often leaving them without basics like hot water and heating, according to the Public Accounts Committee.
The Ministry of Defence says the service it was getting from contractor Carillion Amey was not good enough and it has taken "swift action".
Carillion Amey says it has implemented an "aggressive improvement plan" and its housing service is now "performing well".
Radio 4's Today programme reporter, Sima Kotecha, heard from a soldier about how in his accommodation he had to live with sewage leaking from a pipe.