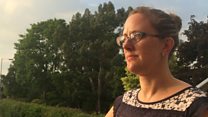 Video
Police officer: Dealing with a baby's death triggered my PTSD
A police officer has spoken about her experience of post-traumatic stress disorder after dealing with the death of a baby.
It follows an investigation by 5 live Daily that found the number of police officers and staff taking long-term sick leave for psychological conditions had gone up by a third over the past five years.
PC Angela Jones is now attending a self-help group for officers coping with mental health issues, run by Gwent Police.
She told 5 live's Mark Hutchings that dealing with the baby's death on duty brought back memories of her nearly losing her own child.
"I couldn't sleep, I would have flashbacks, I couldn't stop thinking about this little baby I dealt with. I can remember everything about her. For me it triggered everything back to me nearly losing my child."