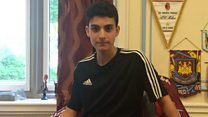 Video
Why Fifa has banned me from playing football
A 15-year-old Scottish footballer has been told by Fifa that he can't play over the border in England because of international transfer rules.
Louis Scott has fallen foul of the rules designed to tackle the practice of European clubs poaching Under 16s from Africa and South America.
He is allowed to play for his school but was denied to sign for Cadley in Preston, by the governing body of football
Louis described the Fifa rules to 5 live Daily's Adrian Chiles as "ridiculous" and feels it's unfair that he can only train with the local amateur club.
"It's quite ridiculous, quite strange. Lots of boys must come from all over the world to play football in England and their parents don't live in England. It's sure they're registered, it's unfair."
The BBC asked both Fifa and the FA to comment. Fifa says it had a request from the FA and replied by referring the FA to the applicable provisions of the Regulations on the Status and Transfer of Players and relevant jurisprudence of the competent deciding authority, i.e. the Sub-Committee of the Players' Status Committee.