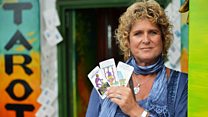 Video
Clairvoyant: 'Man confessed to murder during card reading'
A tarot card reader has told BBC 5 live how a man confessed to a murder during a card reading which revealed the truth of his crimes.
Star Randel-Hanson, 51, broke down when the clairvoyant, Jayne Braiden, drew the cards of a prison, a judge and a jury, at her shop in Brighton.
The clairvoyant told 5 live Daily's Sam Walker that she believes he wanted to confess to his crime, and he gave her permission to call the police.
"You have to be professional. Showing shock was not going to help. I needed to keep calm [and] he was happy to talk about certain things. He gave me the address of where the body was."
He has now been jailed for life for killing his housemate, after being convicted of murder during a two-week trial.