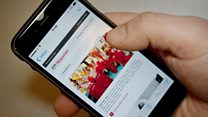 Video
Should it be illegal for under 16s to have a smart phone or a tablet?
A former adviser to David Cameron says he is so concerned about children accessing internet pornography that he wants under 16-year-olds to be banned from having smart phones and tablet computers.
Steve Hilton argues that alcohol and tobacco are illegal for under 16s because they are bad for them, and the same should apply to the gadgets.
Louise Burfitt-Dons from the charity, Act against Bullying, agrees with Mr Hilton, and says access to sexual content can have a devastating effect on children.
But the acting Deputy Editor of the technology website Wired.co.uk, James Temperton, thinks the ban would be a step too far.
They spoke to BBC's Eddie Mair.
(Photo: A person using a smart phone looking at the BBC News magazine. Copyright: BBC )