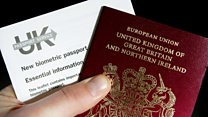 Video
British travellers could face US passport chaos
British people hoping to travel to the United States this summer could see their travel plans ruined – unless they check their passport is suitable.
From 1 April 2016, US immigration changed its rules, and won't let anyone into the country without a valid biometric passport.
This could affect up to 1.3m Britons, who still possess valid non-biometric passports. The UK only stopped issuing non-biometric passports in November 2006.
Radio 5 live Daily's Sam Walker spoke to Hannah, who says her family holiday to Florida was ruined after her partner was refused travel at Gatwick Airport check-in. He eventually got to the States, but only after spending two days and £700 getting a new biometric passport.
Hannah said: "We walked up to the check-in desk. They just turned round to my other half and said you can't fly. What annoys me more is that British Airways didn't inform me when I phoned them [beforehand]."
British Airways told us: "The week before our customers travel to the US, we also send a reminder email recommending they check they have the right documentation, with links to detailed information on the changes on the Department for Homeland Security website and ba.com."