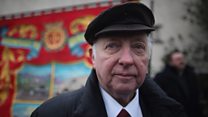 Video
Arthur Scargill: 'Full public inquiry' needed on Orgreave
Former miners' leader Arthur Scargill has called for a "full, open, public inquiry" into the events surrounding the so-called 'Battle of Orgreave' in 1984.
Mr Scargill claims there are similarities with Hillsborough and has accused South Yorkshire Police of trying to cover up the alleged mistreatment of striking miners.
More than 90 miners were arrested and charged with offences including riot, but the cases collapsed when police evidence was found to be unreliable.
The 78-year-old told 5 live's Rowan Bridge: "A full inquiry will reveal that they concocted stories, they told lies."
South Yorkshire Police told BBC 5 live they were aware of the campaign for a public inquiry, but said it was a matter for the Home Secretary.