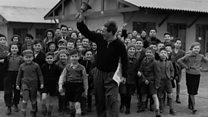 Video
Syrian child refugees should be homed in UK says Sir Eric Reich, chair of he Association of Jewish Refugees.
David Cameron has announced that the UK will take in more unaccompanied Syrian refugee children - but numbers still need to be discussed with local councils.
The move in Parliament after a former child refugee from Nazi Germany made a personal appeal to him to allow more Syrian children to come to the UK.
Sir Eric Reich arrived in Britain at the age of four, as part of the Kindertransport scheme, and now chairs the Association of Jewish Refugees.
The government has faced mounting calls to help unaccompanied children who've reached Europe - and is now trying to find a compromise that would avoid a defeat in the Commons.