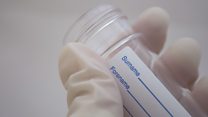 Video
Can a £5 DNA test from a discount store be accurate?
AlphaBiolabs, the company that supplies the discount store Home Bargains, says it is selling hundreds of over-the-counter £5 DNA testing kits every month.
The tests claim to be 99.9% accurate. Processing costs nearly £100, with a 24-hour service available for an extra fee.
Currently paternity tests are not available through the NHS, but you can apply through family courts to settle disputes such as child maintenance or custody issues.
5 live Daily's Chris Warburton spoke to Joyce Harper, who is Professor of Human Genetics and Embryology at University College London, about the accuracy of the discount tests.
Update 13 April 2016: This page has been amended to clarify the costs involved in testing.
Go to next video: 3D masks created from discarded DNA