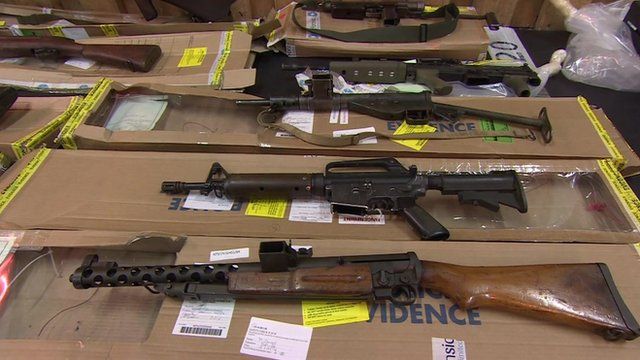 Video
Biggest UK weapons stash revealed by Suffolk Police
The UK's biggest stash of illegal weapons has been revealed by police following the conviction of a firearms dealer.
Anthony Buckland, 65, from Stoke Holy Cross, Norfolk, was found guilty of helping a parish council chairman amass the hoard.
Police found 463 viable firearms at the home of another man, James Arnold, in Wyverstone, Suffolk, in April 2014. He died from cancer before going to court.
Detective Supt Steve Mattin from Suffolk Police described the contents of the weapons haul found in James Arnold's home, to the BBC's Jo Black.
Go to next video: 'UK's largest weapons stash' revealed