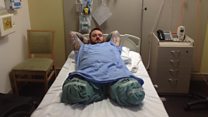 Video
Veteran remortgages home to have leg surgery in Australia
A soldier who was the face of the 2012 Poppy Appeal has remortgaged his home to pay for pioneering surgery in Australia.
Clive Smith lost both his legs to a roadside bomb in Afghanistan's Helmand province. Since then the pain he has suffered from the artificial limbs he received on the NHS led to him being confined to a wheelchair.
He has now paid around £85,000 in total for the surgery to joins his thigh bones to titanium rods that connect directly to his artificial legs.
Doctors in the UK are looking at bringing the technique to the UK, but Clive told BBC Radio 5 live that remortgaging his house will have been worthwhile if it improves "his standard of life... For me it's more of an investment, than anything else."
Go to next video: Harry welcomes 'walking wounded' to palace