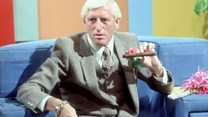 Video
Exaro editor on leaked report: Whistleblowing 'worse' at BBC than in Savile's time
A report into cases of sexual abuse by Jimmy Savile linked to the BBC is set to criticise the corporation's culture, according to a leaked draft.
"Deference, that's at the core of why despite many people at the BBC either knowing or having some idea of what Sir Jimmy Saville was up to; no-one told anyone at the top," said Mark Watts, editor of news website Exaro.
"Whistleblowing today is worse than it was at the BBC in Savile's time, people are even more unsure about their positions at the BBC, there are a greater proportion that are freelance, that is something that would deter people reporting up", added Mr Watts.
A BBC spokesman said: "The BBC hasn't seen Dame Janet's report or any draft copy, so we're unable to comment."