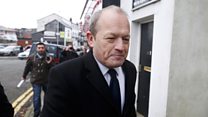 Video
Simon Danczuk: Why I sent sex messages to teenager
Disgraced Labour MP Simon Danczuk has told 5 live why he sent lewd messages to a 17-year-old.
He has been suspended by the Labour Party after admitting sending sexual messages to a teenager who first contacted him about a job.
Mr Danczuk said: "I was on holiday, alone and I had been drinking, she sent me a message of a sexual nature and I responded to that."
He admitted it was inappropriate and said he had apologised unreservedly, but did not think that his behaviour should result in disciplinary action from the Labour Party.
The MP for Rochdale also told Adrian Chiles that police have not contacted him yet about a historic rape allegation. Lancashire police are investigating a claim which dates back to 2006.
Go to next video: MP denies pursuing teenager 'for sex'