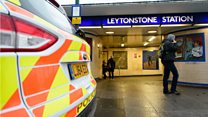 Video
#YouAintNoMuslimBruv: Why did it trend?
Twitter users are posting messages including the hashtag #YouAintNoMuslimBruv to show their contempt for a man who allegedly stabbed three people at a London Tube station.
Salma Yaqoob, a spokesperson for the Stop the War campaign, told the Today programme that the hashtag reflects a "disconnect between what is going on and what a lot of people are feeling".
"The fact that it's been retweeted shows that people are heartened by it," she said.
Hanif Qadir, CEO of the Active Change Foundation, told presenter Nick Robinson "his actions are not in accordance to Islam, but I'm conscious that many people will look at that and say he's got no right to say he's not a Muslim."
"People need to understand and separate the faith from the act," he said.