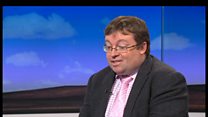 Video
Chairman Mao 'would have been horrified'
Chairman Mao would not have approved of his words being used in a House of Commons debate, Professor Rana Mitter from the China Centre at Oxford University told the Daily Politics.
Shadow chancellor John McDonnell quoted from a copy of the Chinese Communist leader's Little Red Book, after claiming UK assets were being sold to the Chinese, as he responded to the Spending Review.
He has since defended his decision, after the stunt was mocked, and insisted it was a joke.
Prof Mitter discussed the incident with Times sketch-writer Patrick Kidd and Daily Politics presenter Andrew Neil.
Go to next video: McDonnell pulls out Mao's 'Little Red Book'