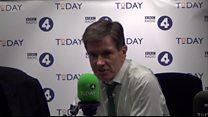 Video
'Terrorists will get through' warns former MI6 head
Sir John Sawers, who was head of MI6 until 2014, has said that the UK should be braced for a terrorist attack in the wake of the Paris massacre.
"No government can sustain a 100% record against terrorists who are constantly trying to get through our defences," he told the Today programme. "No goalkeeper has a 100% record."
Fighting the terrorist threat was a "team effort" with other countries, he told presenter Sarah Montague, and the Paris attacks should serve as a "wake up call" to the security services in Belgium.
"Belgium is not noted for having particularly large or powerful internal security services," he said.