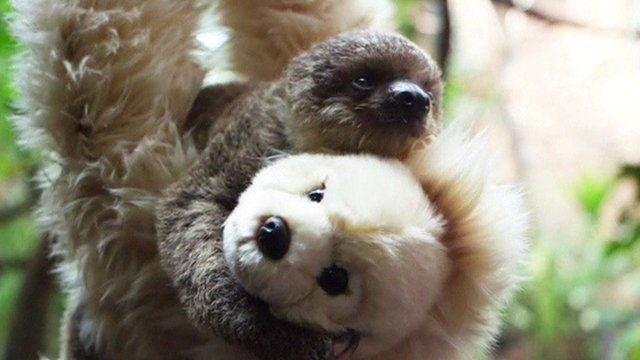 Video
Baby sloth gets soft toy 'surrogate mother' at London Zoo
A zookeeper at ZSL London Zoo is hand-rearing a baby sloth with the help of a soft toy, after its mother stopped producing milk and was unable to care for it.
Kelly-Anne Kelleher has described how she bought the toy from a gift shop as a substitute for the infant sloth's parent.
''I want the baby to use all the muscles that he'd be using if he was on his mother,'' she said.
''He is able to climb all the way around the teddy and make himself comfy however he wants to be''.
Keepers hope that once the sloth starts feeding himself and puts on weight, he will be reintroduced to his natural family.
Go to next video: The woman who got 'slothified'