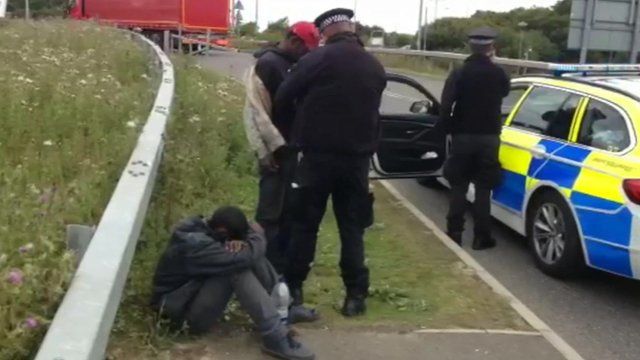 Video
Calais migrant crisis leads to chaos in UK
As at least 1,500 migrants attempted to enter the Channel Tunnel and cross into the UK on Tuesday night, France announced it is to send extra police officers to guard the tunnel.
The crisis has deepened problems in Britain, with the M20 being used as a lorry park for more than 3,500 vehicles which are unable to cross the Channel.
The process, known as Operation Stack, is due to continue into the weekend. The operation involves parking - or stacking - lorries on the motorway when cross-Channel services are disrupted.
Home Secretary Theresa May conceded that some migrants have made it across the border.
Duncan Kennedy has spent the day in Kent.
Go to next video: How migrants enter tunnel site