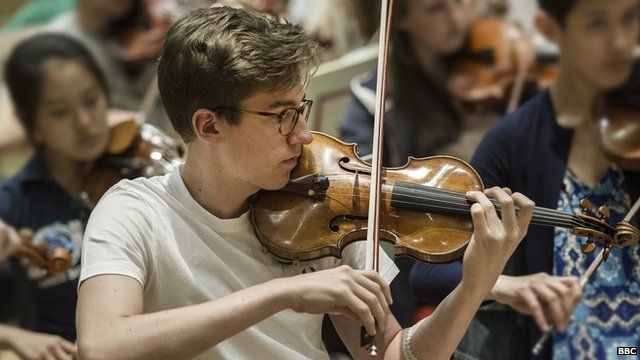 Video
John Ludlow and Roberto Ruisi discuss £1m Stradivarius violin
An 18-year-old boy has been loaned a rare Stradivarius violin, worth £1m, by a musician who was touched by the similarities in their lives.
Roberto Ruisi, will use the instrument in a series of high-profile performances, including the BBC Proms.
Its owner, John Ludlow, was drawn to Ruisi as they both come from Edgbaston in Birmingham and attended the same King Edward's School.
John Ludlow told BBC Radio 4's Today programme that Roberto was the "right man" to be playing the Stradivarius.
Roberto Ruisi said his first reaction when he found out that he would be playing the violin was "worry and perspiring" but says it was a "pleasure" to be playing it.
First broadcast on BBC Radio 4's Today programme on Monday 4 August.
Go to next video: Stradivarius viola may fetch $45m