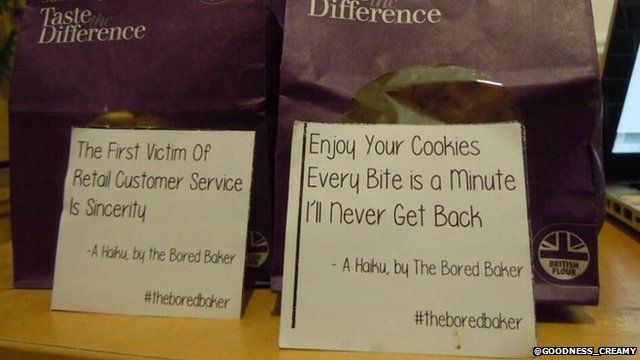 Video
'Bored baker' hid complaint poems in Sainsbury's treats
A Sainsbury's baker found a creative way to complain about his job, by hiding angry Haiku poems in packets of Taste the Difference treats.
The self-named "bored baker", who worked at Mornington Crescent store, wrote in one poem: "Enjoy your cookies. Each bite is a minute. I'll never get back."
Customer Gary Hernandez told BBC Radio 5 live's Drive that despite receiving a "sinister" poem in his baked goods, he would "love to see more" of the baker's work.
Sainsbury's, which immediately removed the cookies from sale, apologised to customers affected and said the incident should "never have happened".
Go to next video: Comics unmasked