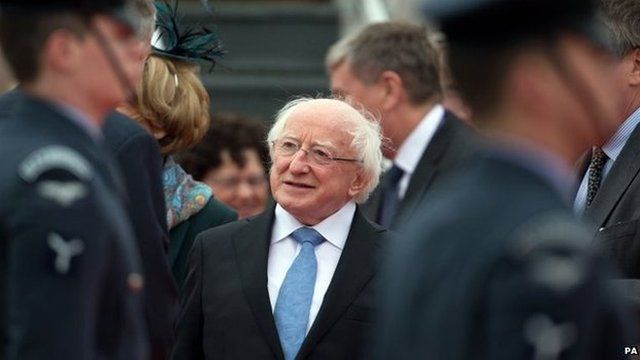 Video
Irish president UK visit 'symbol of political change'
The aim of Sinn Fein remains the "unification of Ireland", the BBC's Peter Taylor has said.
His comments comes as President Michael D Higgins is due to meet the Queen and address Parliament during an official visit to the UK.
Speaking to Radio 4's Today programme, Sinn Fein MP Conor Murphy said that the visit was a "significant" symbol of political change in Anglo-Irish relations.
On Tuesday, Northern Ireland's Deputy First Minister and former IRA commander Martin McGuinness will attend a banquet hosted by the Queen at Windsor Castle.
Stephen Gault, whose father was killed in the Enniskillen bombing, described Mr McGuinness' visit as "another nail in the coffin" for IRA victims given claims that the deputy first minister is hiding information about who was responsible for the 1987 Poppy Day attack.
Questioned about the bombing during the Irish presidential election campaign in 2011, Martin McGuinness denied he was a senior figure in the IRA and the time of the bombing and said he felt "ashamed" by the attack.
First broadcast on BBC Radio 4's Today programme on Tuesday 8 April.